Hello and welcome to my iCoinPro review.
I wanted to review this network marketing company because it has a digital product that is what I believe the first of its kind for the MLM niche.
This opportunity has a product that teaches you the ins and out about crypto-currency, many of you are familiar with Bitcoin, which is covered by a few others.
I want to let you know that I am a member of this program, and joined for a few great reasons I cover below.
If you would like to join my team, I have a button located at the end of my review labeled, "Take My Free iCoinPro Tour" that will take you to a registration page, once registered I will send you a great recorded webinar that will cover a bit more of what I cover here, and you will also get to hear from the owner himself.
Even if you are not that interested in learning more about crypto-currency I would recommend taking a look at the webinar, I know that I learned some interesting new things about this new currency that was fascinating to me, just because I was not educated enough myself.
First Let's Check Out The iCoinPro Opportunity Video
Click Here To Take My Free IcoinPro Tour
My iCoinPro Review
First, as I dive in, I think I will start by diving a bit into the training they have available because I think that is where iCoinPro shines the most.
Once you join, as a member, your back office will have decent user navigation and a clean looking layout.
You will want to navigate to the "My iCoinPro Training" section located in the top navigation.
These sections are visually designed to be easy to navigate and access each individual training sections which I think is great.
Here is a breakdown of each section you will get without going into each individual training specifically and getting myself in trouble by giving away the training information to you.
This section breaks down how to trade cryptocurrencies like bitcoin and etherium to earn money.
The Icoin Pro Micro Profit System
The training is layed out in an LMS (learning management system) style which means that the only way you are able to proceed to the next learning module is if you have completed the previous one by completing the quiz.
I have included a picture of what this looks like in your back-office below.
I really like this style of training because it helps the student to not "skip ahead".
Even if the student is familiar with certain steps, it's always a plus to get a refresher, because in my experience you always seem to run into training or an explanation of things that always seems to make better sense the second time through.
Ok, let's move forward, here is the course lesson layout.
The first lesson starts out with a quick start overview which is the perfect way to start because it helps you to understand the full process of trading cryptocurrencies with the Icoin Pro Micro Profit System so that when you start applying the lessons you can have a better understanding of what you are doing moving forward.
Quick Start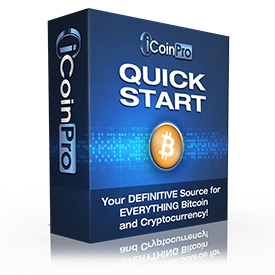 Buying your first Bitcoin – This training section covers the locations on the internet where you can purchase bitcoin easily with the currency you are working with depending in what part of the world you live in.
Core Training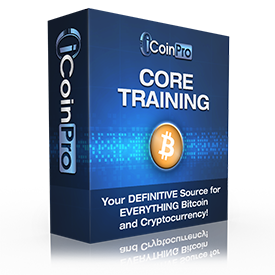 The Core Training section is an introduction and overview into the world of cryptocurrencies.
Introduction to Monetary Systems, Currencies and Cryptocurrencies
The Birth of Cryptocurrencies and Blockchains
Bitcoin Myths
Benefits of Cryptocurrencies
How Do Cryptocurrencies Work?
Wallets
How to Acquire Bitcoin
Cryptography and the Security Behind Cryptocurrency
Blockchain
Block Explorers
The Value of Cryptocurrency and Bitcoin
Core Overview
Advanced Training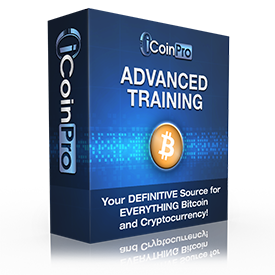 This section covers the more advanced options you have when dealing with crytocurrencies.
Advanced I
Security
Alt Coins Overview
Cryptocurrency Exchanges
Scams
Mining
ICOs Explained
The Blockchain and Blockchain Technologies
Ethereum
Smart Contracts
Ethereum Classic
Steem
Maidsafecoin
Advanced II
Making Money from Cryptocurrencies
Make Money by Mining Cryptocurrencies
Make Money by Investing in Cryptocurrencies
Make Money by Staking Cryptocurrencies
Make Money by Lending Cryptocurrencies
Ripple
Bitcoin
Litecoin
NEM
Dash
Stellar Lumens
Monero
Bytecoin
Augur
Golem
Dogecoin

Click Here To Take My Free IcoinPro Tour

The Micro Profit System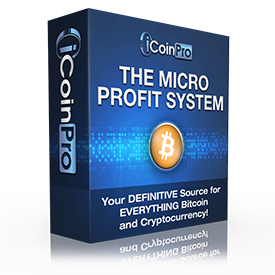 This section covers a fantastic way on how to profit through trading cryptocurrency and learning about the tools available, the ins and outs, and when to buy low and sell high, this section also offers you 2 profit/loss calculators that will help you accomplish these tasks. Really great section that you really can't find anywhere else!
This part of the lesson course outline is the main section of the course, I would pay special attention to detail when you start these lessons.
Training:
The Micro Profit System (Buy the Squeeze)

The Micro Profit System (Buy the Drip)
The Micro Profit System (RSI Ryder) New Method
Tracking Sheet:
Crytocurrency Trading Profit/Loss Tracking Sheet
Enchange Calculators:
Poloniex Profit/Loss with Fees Calculator
Bittrex Profit/Loss with Fees Calculator
Bitfinex Profit/Loss with Fees Calculator
Binance Profit/Loss with Fees Calculator
GDAX Profit/Loss with Fees Calculator
IcoinPro Trade Finder
iCoinPro Trade Finder
How to Use the Trade Finder
Calculators
Compound Returns Calculator
Squeeze Calculator
Additional Training
Micro Profit System Additional Training Videos
Cryto Glossary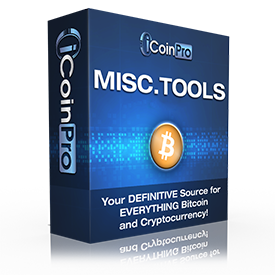 In this section you will learn about a ton of terms that you will encounter when dealing with crytocurrency trading and in general. Many of these terms I had not even heard about before, and was very interesting to learn. Good stuff!
Training Archive
Additional Video Training
Marketing
IcoinPro Compensation Plan Overview
In this section I go over the iCoinPro compensation plan and how you can get paid by simply referring someone to take advantage of iCoinPro's training platform opportunity.
I want to put it out there and say that I personally took advantage of this opportunity and joined myself because of 3 reasons.
The Bitcoin industry is exploding right now and it makes perfect sense to offer training on it, because that is what is extremely hot right now in the market.
The compensation plan.
I like to help people make money and in my opinion this makes perfect sense.
In this section I cover the compensation plan and how to get paid by referring someone to this opportunity.
Powerline Bonus
The commissions you are eligible to earn starts with the iCoinPro's Powerline Bonus.
This bonus is paid out through 5 levels, off of everyone that upgrades their position throughout the entire company right after you.
This equates to 1 person per level and 5 levels deep, so this means you get paid 3% from what level they upgrade at.
This Bonus is paid out only 1 time, not every month, so when 5 people join the company after you do, you will get paid the powerline bonus commission, then the bonus is no longer available. This usually happens 99% of the time your first week just because people are joining iCoinPro all the time.
Sorry for the over explanation, but I just wanted to try to make this as clear as I can explain it, just because this question does comes up.
Fast Start Bonus

The regular fast start bonus is great, and is paid out every week on NEW members that join within the weekly cut-off days which is Wednesday through Wednesday.
This bonus should be a staple in all Network Marketing companies in my opinion because I personally use advertising dollars from time to time, and I know many of my marketing buddies do as well, so when we spend are hard working dollars on advertising and promotion, it really makes it worth it to pay for more advertising when we know that we are going to be compensated the very next week.
*If you're a company owner or thinking about starting one, then please make sure to have this bonus part of your compensation plan… it will really help with your Growth!
As you can see with the chart above, you want to be at 3 star to maximize your fast start bonus compensations!
There are 2 ways of getting to 3 star, and the first way will take a bit of work. You can find information on how to increase your rank in the rank advancement section below.
And the second way is much much easier. The way its easier is when you join, you select the yearly option which has 2 benefits which are:
You get a discount! (always a plus)
You start at the 3 star rank and get all the perks of being the rank of 3 star without having to enroll a single person to start! (winning)
Starting out at 3 star is the way to go in my opinion. The reason is of course the hefty fast starts you start with right out of the gate.
I recommend to start as a 3 star, I did, plus you earn more when you do.
The ones that succeed are the ones that think of this as a business.
Remember that you need to take chances to become successfull,it's 100% true, the ones that take the chances are the ones that are making money!
Coded Infinity Fast Start Overrides

In this section I cover the coded infinity fast start overrides section which are similar to the fast start bonus section but has much more earning potential.
The way it works is that once you hit the rank of start elite or star presidential you earn a fast start bonus on all star elite members 3 generations deep on ALL new members with their initial purchase INFINITE levels deep throughout their ENTIRE enroller tree!
Coded Infinity Fast Start Bonuses are also paid out weekly.
This bonus can be quite substantial as more and more leaders hit the star elite rank.
Residual Income – 2 X 14 Matrix

In this section I cover the residual income opportunity of iCoinPro.
The residual income part of iCoinPro's compensation plan is paid out monthly.
Referring to the chart above you can see the percentages per level you will receive for every active member of your 14 level matrix.
As you can also see that the 3 star rank pays through all level of your 2 X 14 matrix, which is another reason it makes sense to start by paying the year option.
Start at the year option to save money long term, and to earn more short term, just another reason why it makes sense.
As long as they're in your matrix, regardless of who signed them up, you will earn residual income from them every month.
This is usually paid out on the first Wednesday of each month or Thursday.
As you can see the chart above the income potential can be very substantial.
Matching Bonuses

This section covers the Matching Bonuses that iCoinPro offers.
With all of the earning potential iCoinPro offers with their fast start bonuses and residual income matrix, they decided to offer 1 more bonus that I believe can be the most lucrative out of them all.
My math sucks, but I'm gonna try to make this as easy for me to explain so that you can get an idea of how this works if the chart above is confusing to you.
Say you enroll John, Susan, and Maria, and a few others, but John and Maria get to work.
John and Maria are earning from their residual income matrix a monthly total of $1000 each.
You joined at the 3 star level because you seen all of the earning potential, so because you hit the 3 star level you earn an extra 40% from their monthly earnings!
That means that in addition to your residual income earning you will earn 40% of $2000 from both John and Maria.
So $2000 multiplied by .40 (40%) equals $800!
So on top of whatever you're making with your personal efforts, you will also earn an additional $800 off of John and Maria's monthly residual!
I hope you got that.
But think about this, it DOES NOT MATTER how many personal you have, you get that residual monthly match on ALL OF THEM!
This really can add up, think about it, if you have 10 people making $1000 per month which is most certainly doable, that would mean you would be earning an extra $4000 per month! Because you simply invited people to take a look at some valuable training, then they seen the opportunity, upgraded and then started inviting people too!
But the earning potential does not stop their!
As you can see with the chart above, depending on what rank you are at, you can earn a percentage not only with your personal members but also a percentage with your personal members personals too (tongue twister), multiple generations deep, depending on what rank you are at.
A simple process and certainly a great way to earn some amazing income.
Rank Advancement Overview
1 Star
Must have 3 Personally Enrolled active Members each of whom have paid their membership for the current month.
2 Star
Start out paying the 6 month option or you must have a total of 20 active Members in your enroller tree with no more than 40% of that volume counting from any one individual leg.
3 Star
Start out paying the yearly option or you must have a total of 100 active Members in your enroller tree with no more than 40% of that volume counting from any one individual leg.
Star Elite
Must have a total of 500 active Members in your enroller tree with no more than 40% of that volume counting from any one individual leg.
Star Presidential
Must have a total of 5,000 active Representatives in your enroller tree with no more than 40% of that volume counting from any one individual leg.
Icoin Pro Compensation Plan Cons
My first con:
Now to be totally tranparent, I do have 2 cons when it comes to the compensation plan.
The first con would have to be when you first get started you will have to pay an extra $40 on top of any of the subscription plans you decide on upgrading too.
This is not a total con for me because most mlm companies do have a one time fee, but the issue I have is the price point.
Most other companies have a fee of $20 one time.
I just wish that would be lower because it doesn't really go toward the profits made by the affiliates in any way, and is only really going to the company.
My second con:
The second con I have with iCoin Pro is that residual payments will not get paid toward your commissions until your 3rd month.
So the first month is fast start bonuses only which is 100% fine with me and works and is a proven compensation plan payout structure.
The second month the company sais that because the person paid the first month and you received a fast start bonus they are unaible to pay out commission to you because they have to repurchase.
Ok, so the problem I have with this is that first of all they took a $40 upfront payment from everyone when you first get started, and the residual monthly commissions are only a small percentage of an affiliates re-occurring subscription plan payment.
So if you do the math iCoin Pro is more than capable of paying out monthly commissions on the second month without them reaching a even point or even going into the red.
So the math doesn't add up and to be honest is a bit greedy for iCoinPro to do.
The monthly commissions structure when it comes to starting the monthly commissions on the third month is a proven commission plan that fails, case in point is the Nutronix payment plan.
This was the #1 reason for affiliates to drop out in Nutronix, because it was clear that this was due to greed and also it was clearly stated when someone signed up.
So if you can get past those 2 hiccups, iCoin Pro is a really good program to build your online monthly earnings with.
iCoinPros's Additional Training
Webinars
A couple more things I want to make sure I point out is something that I feel has some great importance.
The first is additional training and support that iCoinPro offers in the form of webinars and email updates.
In the time that I have been a member of this program they haven't missed a weekly webinar training that goes over updates, crytocurrency trading training and marketing training.
I have been to many great training webinars and has always felt that they are doing a great job in this department.
Not that many companies out there will dive further into the training side of things.
The majority of programs that have webinars are more about sharing information about the company and its product and opportunity, which is fine and is what iCoinPro also does, but iCoin Pro also dives much more into the training side of it as well which I enjoy.
Email Support
This is another aspect that I feel that they do an excellent job in.
iCoinProis known for being very transparent in any updates, payment schedules or any upcoming webinars that are coming out which is rare when it comes to the company itself holding all these types of updates.
I feel they excel in this department and am very happy with this aspect part of the program.
Automated Emails For "Tour Takers"
This is a great aspect as far as the marekting side of the company.
It is called automated email updates for tour takers to help with upgrading the free tour taker accounts.
It works like this:
After a person takes the free tour and does not upgrade they are considered a free tour taker.
They have a spot in the matrix but only as a placeholder.
When peple take a tour after them they will automatically get notified by the system that a person took the tour after them and to hurry up and upgrade so that that they don't lose that person as part of their downline.
The email system also notifies the free tour takers with members that are below them that upgrade as well.
So when a member upgrades that is below them, the system will send out an email to the free tour taker saying that they will have until Thursday to upgrade or they will lose that person being in there downline.
I like these features because it sends out a "fear of loss" aspect to the potential member and gives a better percentage of that free tour taker to upgrade their spot.
My Final Thoughts and Bonus
First, I want to thank you for sitting through my iCoinPro review, I know it was a lengthy one, but I wanted to make sure you have all the information available to you so that you can make a decision knowing all the facts about what you are getting.
I see so many people promoting iCoinPro with just hype and fake promises without delivering substance, which is really not fair to your new members.
I also wanted to provide a detailed review about what iCoinPro is all about in general for those that are just looking for the training aspect of it, so those that are just interested in the cryptocurrency training part of iCoinPro can take advantage of it as well.
Overall, in my opinion I believe iCoinPro has some of the best training available online about cryptocurrency and trading, with tools, and the fact that they put together a great affiliate program to help promote this program is a huge plus in my eyes.
As a bonus to you if you decide to join me in iCoinPro, you will be presented with a full marketing system coded to your affiliate link with customized follow up emails at no extra cost, my full support, getting started game plan master mind, and my personal resources I use for traffic and lead generation.
A recap of my iCoinPro Bonuses:
Professional marketing system with fully customized follow up email series
Getting started game plan
Weekly webinars
3 way call support
Phone and chat support
My personal resource guide
Click on the "Take My Free iCoinPro Tour" below to get started.
I hope you enjoyed my iCoinPro review, and if you thought this review was helpful in any way and answered some of your questions, please make sure to share this page on any of the social media buttons you see on this page because it really helps out.